These results are important for the future JUICE interplanetary station, which is due to arrive in the Jupiter system in 2029.
The Hubble Space Telescope has confirmed the presence of water vapor in the rarefied atmosphere of Jupiter's moon Ganymede. It is believed to originate from water ice, which sublimates under the influence of solar radiation and particle fluxes.
---
The first evidence of Water Vapor at Ganymede
1. Ganymede is the largest satellite in the solar system, twice as heavy as the moon and larger than Mercury. Scientists' interest in it increased after it became clear that it can have a subsurface ocean, exhibit tectonic activity, and has a magnetosphere generated by a liquid core.
2. Another curious property of Ganymede was its tenuous atmosphere, which is formed as a result of the erosion of the ice surface of the satellite under the influence of bombardment by charged particles and solar radiation.
3. It is believed to be composed of water vapor, molecular and atomic oxygen, an OH radical, and atomic and molecular hydrogen. The abundance of molecular oxygen and atomic hydrogen in the atmosphere of Ganymede was confirmed, but astronomers could not find water vapor for a long time.
4. A team of planetary scientists led by Lorenz Roth of the Royal Institute of Technology in Stockholm has published the results of the analysis of data from observations of Ganymede using the Hubble Space Telescope COS and STIS spectrographs, covering the period from 1998 to 2010 and 2018.
5. The aim of the work was to search for evidence of the presence of water vapor in the rarefied atmosphere of the moon of Jupiter.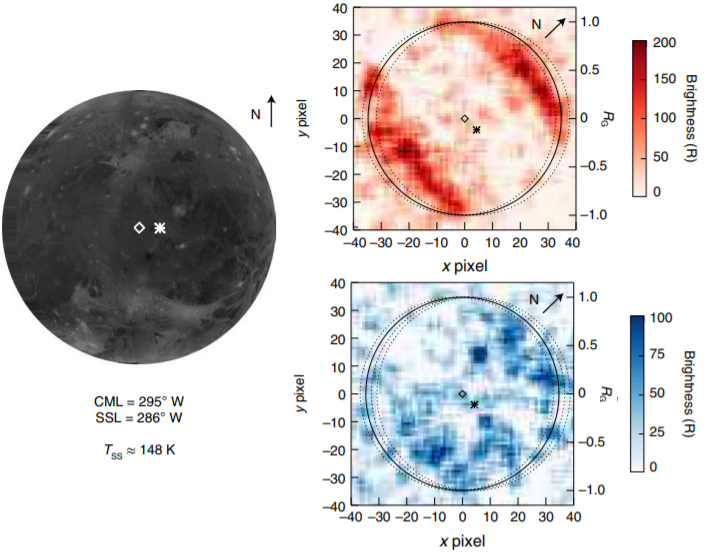 Radiation intensity of atomic oxygen on the reverse hemisphere of Ganymede according to Hubble data. Credit: Lorenz Roth et al. / Nature, 2021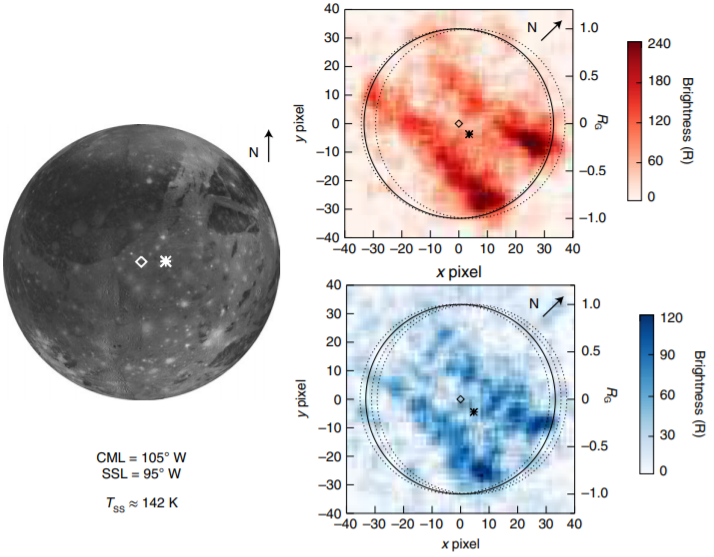 6. Scientists concluded that the intensity of radiation of atomic oxygen (generated by the destruction of water molecules), which was recorded by Hubble in the atmosphere of Ganymede, is related to the distance to the center of the observed satellite hemisphere.
7. Thus, the following picture of what is happening arises: in the low-latitude sunflower regions (the area where the sun's rays fall perpendicular to the surface of the satellite) regions, the processes of sublimation of water ice are taking place with the release of water vapor into the atmosphere.
8. At the same time, the sublimation processes are more active during the day than at night and may depend on the purity of the ice. Away from the sunflower region, molecular oxygen is mainly recorded.
9. The researchers estimated the core density at 10 15 water molecules per square centimeter in the sunflower region, which is consistent with the idea of ​​ice sublimation.
10. These results are important for the future JUICE interplanetary station (JUpiter ICy moons Explorer), which is due to arrive in the Jupiter system in 2029. It will also be engaged in research of Ganymede, in particular, it will track the transport of water vapor in the atmosphere of the satellite